The Scatcherd-Labatt connection was totally unlike the Scatchard-Wrigley connection. No Scatcherd ever worked for John Labatt Ltd. yet the Scatcherd family benefitted greatly from Labatt largess, while conversely, William Scatchard Jr. was a full partner and worked with William Wrigley Jr. for years getting the fledgling gum company up and running, yet no Scatchard ever inherited as much as a pack of gum from the Wrigley fortune.

Previously we had the John Labatt Ltd. story on this page, more or less a copy of 100 other versions found by googling "Labatt". Now, we merely provide links to the best of those web pages and on here concentrate on the nine children of John Labatt II who inherited and ran the company for forty plus years starting in 1915.


06/13/16 View David Scatcherd's obit here.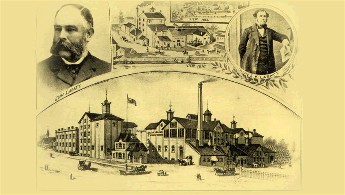 <!A HREF="http://www.fundinguniverse.com/company-histories/Labatt-Brewing-Company-Limited-Company-History.html"> For the John Labatt Ltd. story, click here.
William H. R. "Reg" Jarvis CORRECTION PLEASE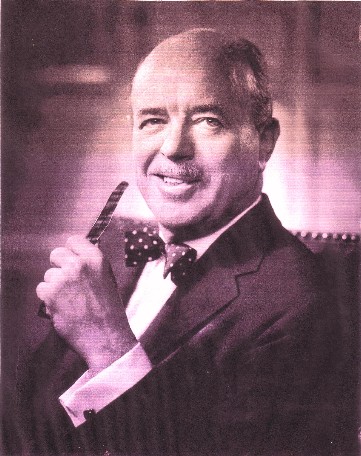 The fundinguniverse story on the John Labatt link has a glaring error in it, namely the part about Reg Jarvis' death from a heart attack in the Labatt board room. The fact is my father had a heart attack, yes, but he had it at the Royal York Hotel in Toronto while playing cards with his second wife, Liette Mickles Jarvis, his daughter-in-law, Katherine Jarvis, and a physician friend from New York. The story has it he was dealt 13 diamonds in his bridge hand and collapsed from the shock of it all. (And who wouldn't, as according to the "Bridge Odds Almanac" that is a 169,066,442 to 1 shot.) The doctor pronounced him dead at the scene. Then the article states that this happened in the "early 60s" but the actual date was 7/16/1958. How do we know all this? Because this is a FAMILY run website. Hopefully, all the wrong versions out there in cyber space can now be corrected. ---Kitty Jarvis Blair


For the Jarvis Tree going forward, click LEFT side or MIDDLE or RIGHT side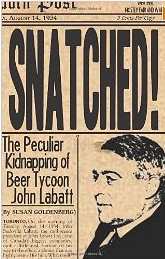 For the John S Labatt kidnapping story, click here.
History books on the subject tell us that in 1911 John Labatt drew up a family trust and willed the company to his 9 surviving children, in age order: Katherine, Francis, Selina, John S, Dora, Hugh F, Mary, Ismena and Jean. Three others (Eliza, Vera and George) died before 1911 and missed out. The survivors all received 1/9 of 2,500 shares spelled out in the document. In 1915 when John passed away they each received approximately 278 shares. Starting then, John and Hugh ran day-to-day operations but they always consulted the 7 sisters on major decisions that had to be made, if they could find out which cruise ship they were on.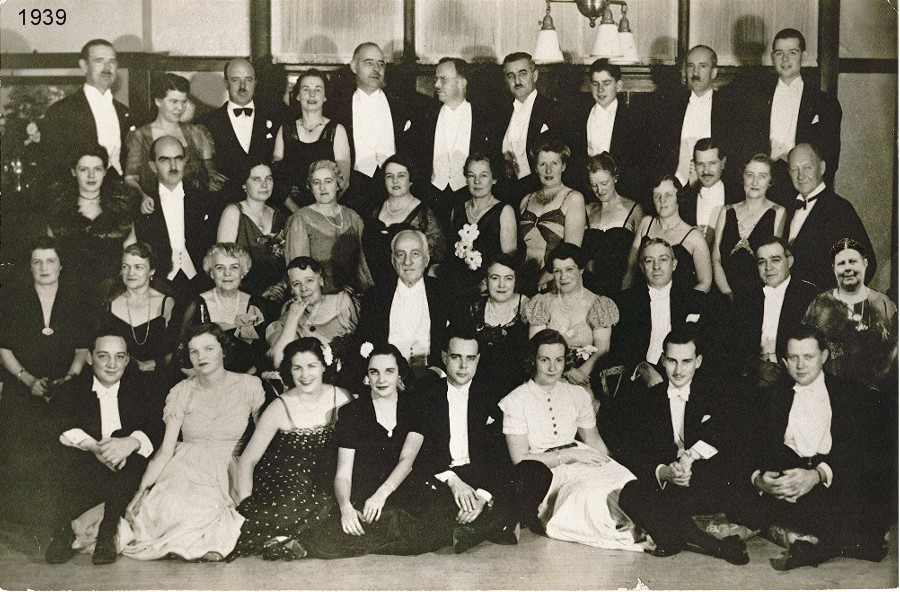 The Labatt Christmas gathering 1939
All 9 of the siblings appear in this gathering in the 3rd row. (Picture courtesy of the Labatt Brewing Company Collection, Western Archives, Western Ontario University.)
Top Row: L to R: Verse Cronyn, Margaret Jarvis, W.H.R. Jarvis, Honor Cochran, R.H. Cronyn, Colin Scatcherd, Ross Whitehead, Hume Cronyn, John Harley, Peter Cronyn.
2nd Row: Kathleen Spotswood, Murray Chipman, Katherine Harley, Bessie Labatt, Dora Whitehead, Helen Thompson, Mrs. R.H. Cronyn, Mrs. V.P. Cronyn, Audrey Scatcherd, David Thompson, Angela Labatt, Blair Russel.
3rd Row: JEAN, ISMENA, SELENA, FRANCES, Major-Gen. S.C. Mewburn, DORA, MARY, HUGH, JOHN, KATHERINE.
Bot Row: Fred Haubach, Margaret Haubach, Mrs. Alex Graydon, Mrs. W.T. Whitehead, W.T. Whitehead, Jr., Jane Russel, Robert Whitehead, Alex Graydon.


When John Labatt Ltd. went public in 1945, the company issued 900,000 shares of common stock which was snapped up by the public at $5.00/share. This provide $4.5 million dollars which spurred the expansion of the business including the acquistion of the Copland Brewing Co. Meanwhile, each of the nine kids received an unknown number of shares of an unknown variety of stock (Common, Class A, Preferred) in exchange for their 278 private shares. But whatever they were, these were the shares sold to Interbrew in 1995, ending the family ownership years.

The Nine Surviving Children of John Labatt II
(And our guy)


Katherine C 1867- 1941
Alan D Scatcherd 1864- 1901
Married 1894 Children: 3
i- John L 1895- 1918
ii- Colin C 1898- 1953
iii- Margaret B 1900- 1944
Frances A 1868- 1941
Hume Cronyn Sr. 1864- 1933
Married 1892 Children: 5
i- Richard H 1894- 1948
ii- Verschoyle F 1895- 1978
iii- Katherine 1897- 1973
iv- Honor H 1900- 1960
v- Hume Jr. 1911- 2003
Selina M "Lena" 1871- 1943
William T Whitehead 1865- 1920
Married 1911 Children: 2
i- William T Jr. 1914- 1951
ii- Robert 1916- 2002
John S 1880- 1952
Elizabeth A "Bessie" Lynch 1891- 1975
Married 1926 Children: 3
i- John P "Jack" 1928- 1981
ii- Mary 1930
iii- Arthur S 1934
Dora E 1882- 1969
Dr. Maurice Spotswood 1877- 1937
Married 1915 Children: 1
i- Kathleen D 1916- 2016

Hugh F 1883- 1956
Angela Pearce 1898-1980
Married 1931 Children: 0
Mary E J 1886- 1954
Blair Russel 1880- 1961
Married 1915 Children: 3
i- Blair "Dal" 1916- 2007
ii- Jane 1917- 2000
iii- Hugh 1921- 1944
Ismena A 1887- 1971
Alex HM Graydon 1870- 1928
Married 1914 Children: 2
i- Alexander 1915- 1987
ii- Margaret I 1918- 2000
M2 1931 Murray R Chipman 1897- 1982
Jean A 1891- 1975
Maj. Ralph E Balders 1888- 1943
Married 1915 Children: 1
i- Arthur H 1918- 1982
M2 1949 Kenelm Lister-Kaye 1892- 1955


The Labatt Christmas gathering 1950

Top Row: L to R: Actor Hume Cronyn, Shrimp Cochrane, John Cronyn, Alec Graydon, Reg Jarvis, Dal Russel, Director/Producer Bob Whitehead, John Patton, Robert Labatt, John Harley, Ernie Jackson.
2nd Row: Dorothy Cronyn, Barbara Cronyn, Bindy Patton, actress Jessica Tandy, Lorraine Russell, Virginia Whitehead, Kay Graydon, Kay Harley, Kay Labatt, Shirley Brickendon, Ruliff Grass.
3rd Row: Honor Cochrane, Verse Cronyn, Barbara Cronyn, Babs Graydon, Murray Chipman, Bessie Labatt, John S. Labatt, Angela Labatt, Hugh Labatt, Audrey Scatcherd, Colin Scatcherd.
Bot Row: Alan S. Jarvis, Katherine M. Jarvis, Katherine Cochrane, Francis Harley, Margaret Harley, George Brickendon, Mary Labatt, Arthur Labatt, John P. "Jack" Labatt.




NOTABLE TREE MEMBERS PAST AND PRESENT



SCATCHERD AND CRONYN COUSINS IN 1907. FAB PICTURE COURTESY OF KITTY BLAIR.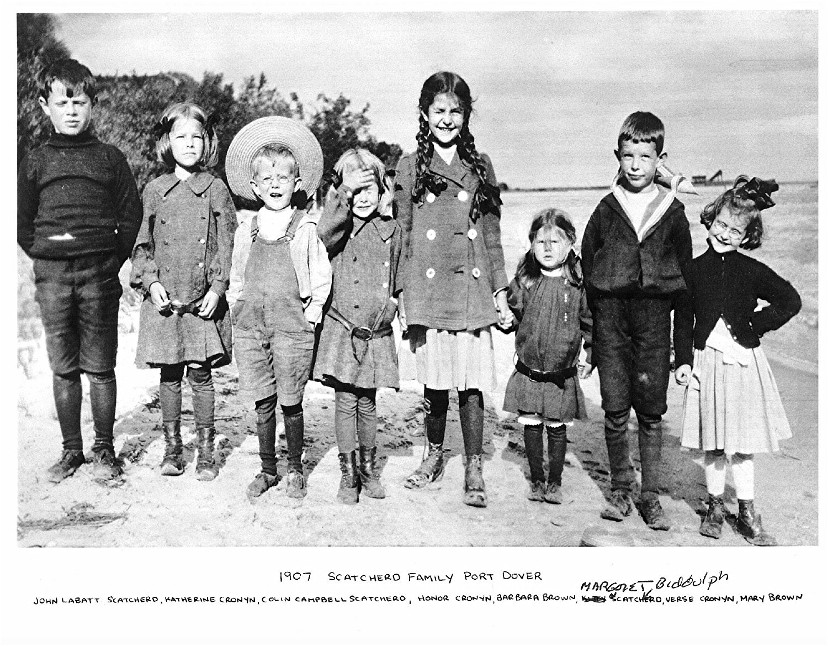 scatch25@gmail.com << Email us here.